BGAS – CSWIP Site Coating Inspector
Cilegon, 28 Juni – 2 Juli 2021
Next Schedule : 25 oktober 2021
FEE
USD $ 1.715
Venue :
Ruko Metro Cilegon Blok A1 No.9, Cilegon – Banten 42411
---
Is it for me?
You can take this course with or without previous experience in site coatings inspection and is suitable for you if you wish to attain BGAS-CSWIP Approval as a Site Coatings Inspector. It is also suitable for anyone engaged in the inspection and coating of new and existing pipelines. This approval is very useful to welding inspectors as it can extend your working time capability on pipelines projects.
What will I learn?
This course will cover corrosion, specified coating conditions, surface preparation methods and standards, surface contaminants and tests for detection. You will also learn about coating technology, film thickness, coal tar enamels, special situations, hot applied tapes, cold applied laminate tapes, grease based tapes, and self-adhesive overwrap tapes.
You will also be taught about polyethylene cladding, fillers, mastics and putties, heat shrinkable plastics, powder coatings, urethane MCLs, holiday detection, concrete coatings, and internal coatings. The course also offers information on cathodic protection, stages of pipeline construction, handling, transport and storage, pipeline surveys, health and safety, coating faults, and working practices and quality.
What will I leave with?
By the end of the course, you should be able to:
Understand the principles of pipeline coatings

Understand the importance of surface preparation

Appreciate the difficulties associated with pipeline site coating

Understand the practical methods of testing and inspection

Interpret the requirements of standards

Meet the syllabus requirements for the BGAS-CSWIP Site Coatings Inspector examination
Certification :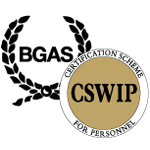 ---
CONTACT US
[email protected]

+62 2548 481 815
+62 8111 788 615
+62 8118 381 232